Dr. Monica Johnson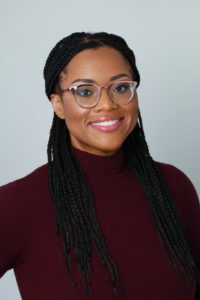 Hi! I am Dr. Monica Johnson. If you're reading this, it means you are taking your mental and emotional health seriously and researching someone who will be a good fit for your journey. This is exciting! Let me tell you more about me to help you with your decision making process.
I am a Licensed Psychologist in NYC, but some people think of me as a problem solving pro, empowerment guru, and self-compassion guide! I partner with my patients to find pathways to a better life. I work best with people who are tired of being stuck and ready to make changes. I can't change you. Only you can do that, but I'm super excited to be your side kick on the journey and help you highlight roads to success.

One of the most important things to know about me is that I am NOT a smile and nod type of therapist. I get down in the trenches with you. I'm down to earth and real with you through this process which means I will call you out on your BS and help you figure out what to do with it. We will work hard and laugh a lot. For the record, there is nothing off limits or shameful in therapy. I've seen it all and heard it all. If you need to talk about sex, money, medical issues, or "that one time in Amsterdam," don't hesitate!
I work with people of all backgrounds (race, gender, sexuality, religion, alternative relationships) and you should expect that I will affirm your identity while helping you to develop a fuller self concept. My job is to help you tap into strengths you already possess (we all have them even if we can't see them yet) and create new ones! If you are struggling with depression, anxiety, feel constantly overwhelmed by your emotions, past traumas, poor relationships, low self esteem, or just deciding what the next step is in your career/life, I can help. If you're ready to claim your best life, contact me now!
---
Alex Breuss, MA
Hello, my name is Alex. Many people silently struggle with depression, anxiety, anger, disconnect, self-loathing, and relationship issues. We all encounter situations that are difficult to navigate or deal with and sometimes we need some help to deal with those situations successfully. That is exactly what I want to help with. 
Together, we can work on defining the necessary tools and knowledge to get you to a place where you understand yourself, others, and your environment well enough to shape your life better. Through therapy, you can gain a better understanding of the consequences of your actions, the actions of others, and be given greater decision making power in your life. By embarking on this journey we will discover why we are the way we are, find acceptance in who we are, and learn what is necessary to live a new life. I strive to make the therapeutic process to be as welcoming and accepting as possible. If you are ready for a new lifestyle, then this is the place to be. Please don't hesitate to contact me!
---